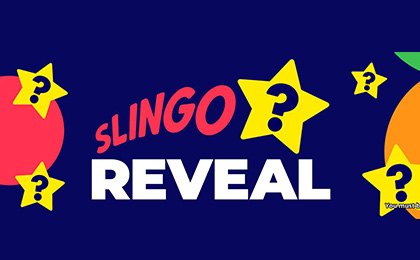 Slingo Reveal
Here is yet another variation on the classic Slingo game! In Slingo Reveal, slots-meets-bingo-meets-instant scratch card wins! This exciting game offers you a new way to play your favourite Slingo casino games, with even more prizes waiting for you!
play now
How to Play Slingo Reveal?
Gameplay for Slingo Reveal is very simple.
Select your wager amount using the STAKE button. Remember, once your wager is set, it cannot be changed in the course of the game.
You will have 9 spins to win a Slingo.
Click on the START GAME button to begin the game.
To win a Slingo, you need to mark off 5 numbers in a row, diagonal or column. If you manage to complete the entire grid, you get a Full House and the jackpot!
Features and Benefits
Game Layout: The layout of Slingo Reveal is standard.
The 5x5 75-ball Bingo grid atop the single slot reel is at the centre of the game screen. However, that's where the similarity ends.
On the top and the left of the grid are bubbles with question marks. These are the instant win scratch cards. Every time you win a Slingo, a randomly selected symbol is revealed in one of those bubbles.
Complete the symbol sets to win as much as £10,000!
You also get an instant win every time you get a Slingo.
Additional Feature: A unique feature about this game – besides the instant win scratch cards – is that the regular game's RTP is 89.50%. However, when you purchase extra spins, the RTP goes up to 95%!
Bonus Symbols
The Joker: This Wild will allow you to mark any number in the column above where it appears on the reel.
Free Spin: You get awarded a Free Spin when this symbol appears on the slot reel.
The Devil: This bad guy is a blocker and can prevent you from making a possible Slingo. However, unlike other Slingo games, this Devil will only appear in the centre reel!
Instant Win Symbols: The symbols revealed from the Instant Win scratch cards are cherries, melons, oranges, plums, the number 7, the BAR symbol and diamonds. The diamonds – obviously – have the highest value.
Mobile Experience
Slingo Reveal can also be played on your mobile devices such as your smartphone or your tablet. This way, you can play this unique new Slingo online game on the go. All you need to do is download the app, and voila! You are ready to game.