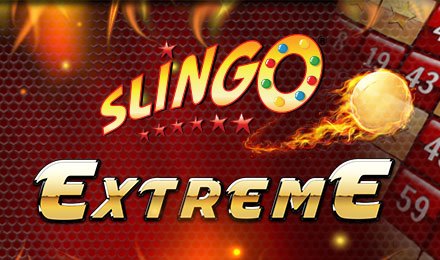 Slingo Extreme
You might be wondering, "What exactly is the deal with Slingo Extreme?" Basically, there is a company named Slingo and it developed a game of the same name. But unlike any other, the latter is all about the combination of elements from slots and bingo; hence the unusual name.
play now
By essence, Slingo Extreme is very unlike your regular slingo games out there. That is because it is mostly 75 ball-bingo but with some interesting characters thrown in – and all of them are really reminiscent of slots. You see, the trouble you will have with the traditional bingo is that it is just too predictable. And mind you, it can be very boring sooner or later – not with Slingo Extreme, though.
How to Play Slingo Extreme?
So, you have finally decided to slingo login your way to one of the best slingo games online. Well, it is time to learn how to play online the Slingo Extreme.
Technically, it introduces you to a 5x5 number grid alongside a reel found at the bottom. You will be given at least 11 spins, each of which will allow you to place around 5 numbers on your reel. And just like other slingo games, Slingo Extreme will mark off any numbers in the reel which match the respective column on the grid above. Its goal is to simply acquire a "slingo," which is 5 adjacent squares marked off, be it diagonal, horizontal, or vertical.
Special Symbols
Now, before you move forward on placing you bets, you first need to have a clear understanding of its special symbols. That way, you can up the ante of your gaming experience and, more importantly, have more chances of winning prizes.
Joker – Simply marks off any number found in the column above.
Super Jokers – Tend to mark off any number found in the entire grid.
3 or More Jokers/Super Jokers In Any Combination – This one automatically wins you an instant prize.
Free Spin – As the name suggests, it gives you one free spin.
Coin – Gives you an instant cash prize.
Devil –Responsible for blocking those potential number matches, so better watch out for them.
If you are able to land some free spins on your reel, keep in mind that they will come into play right after your 11 initial spins are consumed. Depending on the number of free spins you get, you can also choose to buy up to 4 extra spins. In one way or another, this should improve your Slingo Extreme experience!
How To Play Extra Spins?
Apparently, Slingo Extreme does not come with bonus rounds, much like the ones you often see in other slingo games online. Nevertheless, you can take your game to a whole new level by leveraging the extra spins. They are pretty much like bonus rounds, though presented in a different concept.
Once your 11 spins have been consumed – including any free spins you have used – you are automatically moved to the second stage of Slingo Extreme. It is worth noting that the number of extra spins you can get is limited to eight. These spins, in particular, are represented by green balls.
The price you get for each spin is highlighted for you on the SPIN button. As for the price of the spin, it is immediately deducted from your credit. You then have the option to either spin or elect to end the game. Lastly, the potential wins available can be seen in order of win value. They are highlighted in green along with their respective information bar, as well as the amount you are likely to obtain.