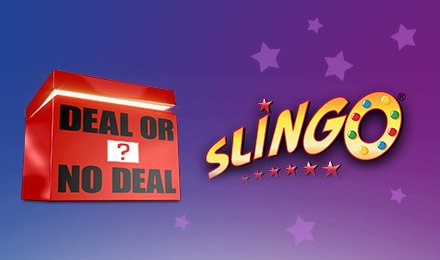 Deal or No Deal Slingo
If you have not come across any slingo games, then you are missing a lot. And if you have not chanced upon Deal Or No Deal Slingo yet, then you have come to the right place.
play now
If you really think about it, it is bingo with a badge. Also, it has got a number of things in its favour. For starters, it is completely a mobile-compatible game and is easy to understand from the get-go. By essence, Deal Or No Deal Slingo takes the whole concept and freshens it up with a handful of features such as banker's offers. Obviously, you have seen and understood Deal or No Deal. So yeah, that is pretty much the concept of the game.
How to play Slingo Deal Or No Deal
Despite being a hybrid slingo game, it is easy to pick up and understand quickly. Once you slingo login, you basically set your stake and pick your lucky box from a total of 26 presented to you. From there, your box will be set aside while the remaining ones fill the standard 5x5 grid. This is the time to play your spins of up to 10 in total.
Each of your initial spins is synonymous to place 5 numbers or symbols directly in the reel underneath the grid. If any of the boxes with numbers in the columns above are able to match the number below it, then the box will be unlocked and its prize value is shown or detached from the Deal Or No Deal Slingo game.
If you can open five boxes next to each other – which could be done diagonally, horizontally, or vertically – you will be able to create a slingo. And each of these that you create will move you up a place towards the prize multiplier bar. The latter, in particular, can be seen on the left side of your screen.
Once you are successful in creating 4 slingos on the Deal Or No Deal Slingo online game, you will be given the opportunity to unlock the Banker's Offer. And if you are able to create more than five slingos, your prize value multiplier can be increased by at least 1x (i.e. with each slingo) and goes up to 2x, 7x, and so on.
Bonus Symbols
If you are able to mark off all possible slingos and, more importantly, hit a Full House, then congratulations - you can jump up to the 20x multiplier. This is where you need to look out for the following symbols:.
Jokers –These are wild symbols that can be utilized in order to open any box in the column they appear on Deal Or No Deal Slingo
Super Jokers –Like other wild symbols you see on some slingo games, they can be utilized in opening any box. But this time, though, it will be in the whole grid
Free Spin –Gives you the chance to have another spin at the end of your game.
Devil –It is meant to block all of your potential matches on the grid.b>